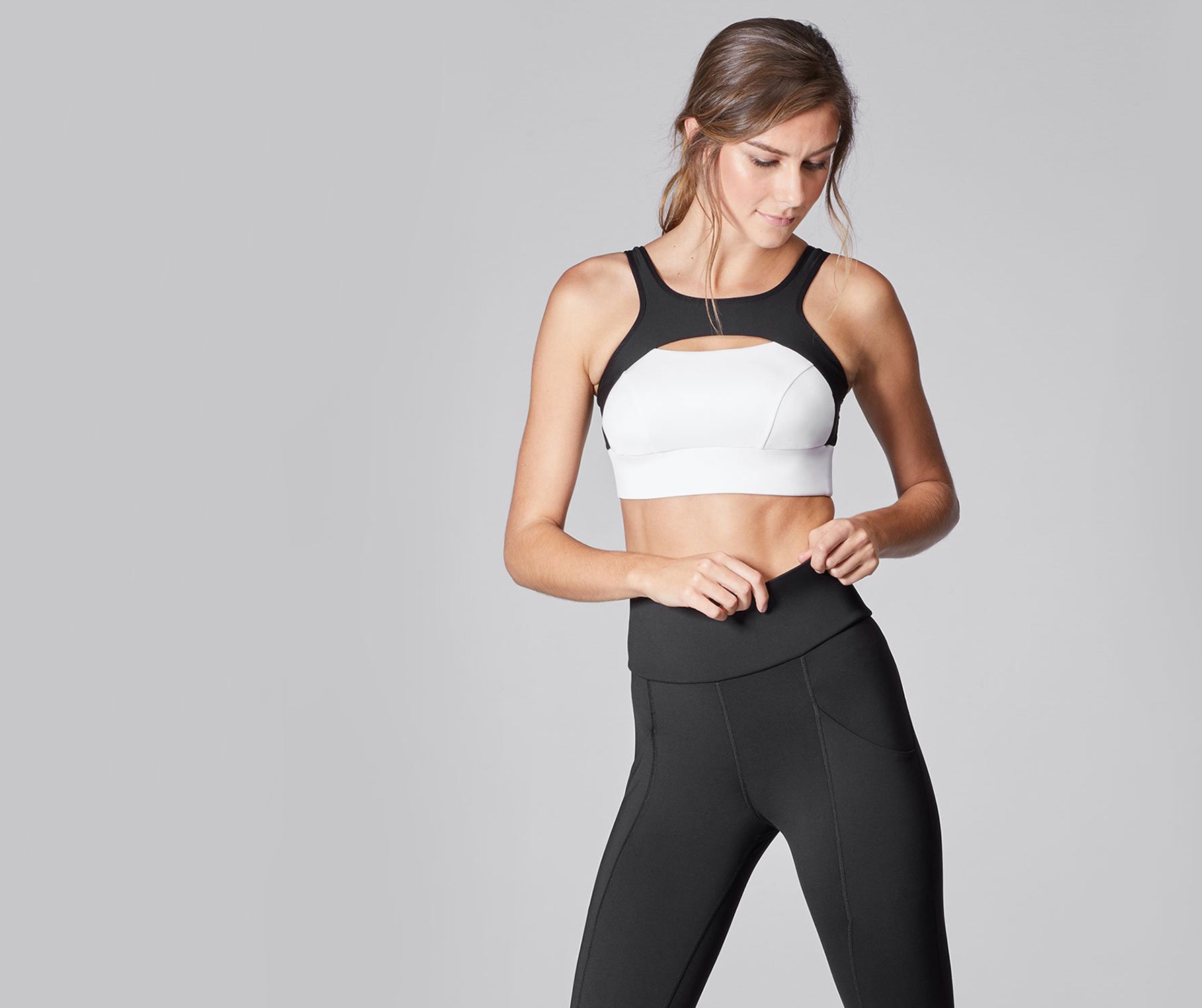 THE ULTIMATE MICHI SIZE GUIDE
Every female body is unique and shopping for the right size or perfect fit can be challenging.  And to make things more difficult, online shopping takes away the chance to try on the clothing before buying. You need to wait for your order to arrive before you get to experience how it feels on your body, or how it makes you feel on the inside too.

At MICHI, we want to remove as much of the doubt and fear of purchasing as we can.  We ensure that our sustainable activewear is thoughtfully created and designed with the female body in mind. We create sports bras, leggings, and ready-to-wear pieces with 8-way stretch fabrics that sculpt the body, providing you with a flattering fit every time.

MICHI strives for consistency in our fit, purchase one of our leggings once and feel confident that your size will stay true. At MICHI, we're always looking to create innovative designs with our activewear that are fresh and exciting. We're constantly listening to your suggestions and ideas to improve our future collections. This has led to MICHI's evolution over the years with our women's activewear increasing the sizing options to choose from.

We've outlined some easy to follow sizing and fitting tips to consider when looking for your perfect MICHI activewear piece to rock to and from the gym– size chart included! Consider this your ultimate size guide for finding the perfect everyday sports bra, the perfect fit for leggings, or which size to choose if you're in between sizes.
LEGGINGS
Our leggings are designed from the same pattern blocks and made on the body to allow for consistency throughout styles. That being said, certain elements of our leggings can fit differently on different women. We have some tips for you to consider when finding your perfect MICHI legging:
SPORTS BRAS
Sports bras are tough and easy all at the same time. Fortunately for our MICHI bras, once you find a size that works, you can experience consistency as you look to grow your MICHI sports bra collection. Tips to consider:
Our MICHI sports bras differ in sizing from our crop tops. Crop Tops like the Ignite Crop Top or Glory Crop Top have a bit more give than our bras so treat these how you would normally fit yourself in a workout tank.

Treat the fit of your sports bra how you would fit a regular bra. The larger the cup size, the more recommended it is to go up in sizing. D to DD cup sizing can trust that Large will fit comfortably. We're working towards expanding our bra sizing!

Our sports bras provide ultimate support for your workouts but do have recommended levels of intensity based on design in the product descriptions. For example, The Siren Bra is reliable and supportive for yoga inversions, but consider The Inversion Bra for your toughest HIIT workout.

Any sports bra with an elastic chest band like the Antigravity Bra, Lotus Bra, and Fusion Bra will give you excellent support for high-intensity workouts.

Zippers found on the Mist Bra and Elektra Bra are reliable with a secure auto lock.

All our bra cups are removable for easy washing and option to keep in or take out. We all have different preferences!
MORE SIZING TIPS AND TRICKS
Sometimes it's perfectly okay to take out the tape measure and see where you fit in our SIZE CHART. We promise you we're working towards a size chart that can include as many women as possible! We've included our size chart below but you can also find it here. If you're still uncertain about what size to go for, or unsure about the fit of anything MICHI, reach out to us through our MICHI Chat or by email at ORDERS@MICHINY.COM. We're always willing and able to find you the best style that works for you. Afterall, what may work for you may not work for someone else. We're here to fuel your confidence and have you feeling good!
| | | | | | | |
| --- | --- | --- | --- | --- | --- | --- |
| | XX-Small | X-Small | Small | Medium | Large | X-Large |
| Equivalent Size | | size 0-2 | size 4-6 | size 6-8 | size 10-12 | |
| Average Bra Size | | 32A | 32A-B | 34A-C | 34-36/C-DD | |
| Bust | | 31-32" | 32-33" | 34-35" | 36-38" | |
| Natural Waist | 22-23" | 23-24" | 25-26" | 27-28" | 29-30" | 32-34" |
| Low Waist | 26-27" | 27-28" | 29-30" | 31-33" | 34-37" | 38-41" |
| Hip | 30-32" | 32-34" | 34-35" | 35-37" | 38-40" | 42-44" |
To assure a perfect fit, take your measurements with a flexible tape measure while wearing no clothing or only undergarments.
Achieve a perfect fit             
Bust
Horizontally wrap the tape around the fullest part of your chest along your nipple line and across the shoulder blades.
Waist
Horizontally wrap the tape around the smallest part of your waist which is just above the navel.
Low Waist
Horizontally wrap the tape 2-3 inches below your navel where you would comfortably wear your pants.
Hip
Stand with your feet together and horizontally measure around the fullest part of your hips including the largest part of your derrière.
Inseam
Vertically measure from the very top of your thigh to the desired pant or short length.