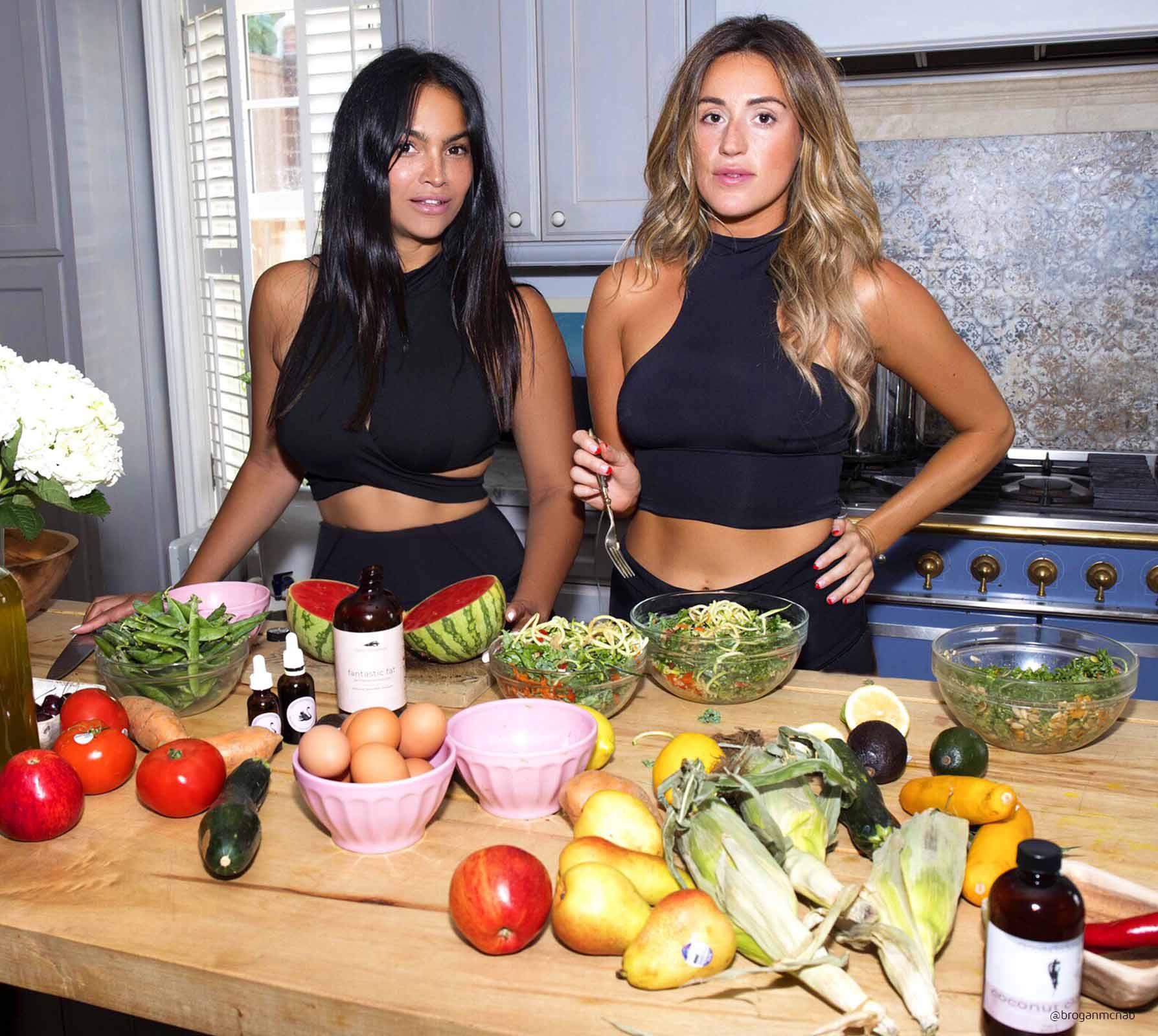 TOP 5 HEALTHY VALENTINE'S DAY RECIPES TO MAKE FOR YOURSELF
@goodgoddessdaily in the Elektra Bra and @ripe.nutrition in the Extension Crop Top.
It's that time of year where the color red gains prominence, flower deliveries are booming, and dinner reservations are impossible. Valentine's Day is a cultural phenomenon that encourages everyone to celebrate love and romance and find kind ways to express your affection to the ones you hold dearest to your heart. But what about yourself?
We touched on small things you can do for yourself this new year in our last blog post but when it comes to holidays like Valentine's Day, sometimes the focus can be taken away from the first person you should fall in love with. YOU. We encourage you to love you this Valentine's Day and do something nice for yourself if you weren't already planning on it. After all, a healthy lifestyle doesn't start without thinking of you first.
Planning to have dinner and company? Even a dinner party for one? Doing something small like making a healthy dinner for yourself this Valentine's Day is a great place to start with bringing it all back to self love. But don't worry– we still think holidays are a great excuse to indulge in something delicious. Here are our top 5 healthy Valentine's Day recipes to treat yourself on February 14th or any other night with friends, family, and of course yourself.
PLANT-BASED GRAIN-FREE TACOS
Courtesy of BonBeri
Ingredients:
6 Siete almond flour or coconut/cassava tortillas
Filling:
2 zucchini chopped

1 small red onion sliced thin

3 ears of corn

2 tablespoons of avocado oil

1 teaspoon of ground cumin

1/2 teaspoon of chili powder

Sea salt and black pepper to taste

1/2 cup apple cider vinegar

1 firm but ripe avocado sliced thin

2 Hilary's Veggie burgers
Black bean filling:
1 can of organic black beans, strained and rinsed

1 tablespoon of vegan mayo

1 teaspoon of ground cumin

1/2 small red onion minced

1 red bell pepper, deseeded and minced

1 handful of fresh cilantro, chopped

1/2 lime juice

Sea salt and pepper to taste
Condiments:
Vegan mayo (I like Sir Kensington's)

Hot sauce (I like Cholula or Valentina)

Fresh cilantro chopped

1 jalapeno, deseeded and chopped

1-2 limes quartered
Directions:
Preheat oven to 450℉

In a small bowl, combine shaved onion and vinegar. Let sit while preparing rest of tacos.

On a baking sheet, place chopped zucchini and ears of corn and veggie burgers, separating veggies and burgers. Sprinkle with cumin and chili powder. Drizzle avocDo oil over and rub well. Season with salt and pepper. Roast in oven for about 20 minutes until slightly browned.

While veggies are roasting, combine black bean filling ingredients in a medium sized bowl. When mixed well, take half and put in small food processor to blend until somewhat creamy. Return that half to mixture and mix well. Set aside. You could also use this as a dip!

Remove from oven and let corn cool. Using a sharp knife, shave off kernels and set aside in bowl. Chop up burgers to bite sized pieces.

Take one defrosted tortilla and place over medium low flame on stovetop for about 5 seconds until edges begin to char. Flip and do the same for another 5 seconds. Transfer tortilla to a plate. Smear one teaspoon of vegan mayo followed by black bean mixture, zucchini, burger bites, corn, avocado, pickled onion and other toppings. Enjoy!

 
CARBONARA-ISH PASTA 
Courtesy of Goop
Ingredients:
2 tablespoons olive oil

¾ cup turkey ham, cut into ¼-inch cubes

1 large shallot, about ¼ cup minced

¾ cup frozen peas

1 teaspoon lemon zest

2 eggs

8 ounces lentil spaghetti

Cracked black pepper and flaky sea salt to taste
Directions:
In a medium-size sauté pan, heat the olive oil over medium-high heat. Add the turkey ham and sauté for about 5 to 8 minutes, stirring occasionally, until nicely browned all over. Reduce the heat to medium, and add the shallots and peas, adding a little more olive oil if needed. Sauté for a few more minutes until the shallots are soft and the peas are fully cooked.

While that cooks, boil water for the lentil pasta. Cook it for a few minutes less than the package suggests so it will be al dente; drain and rinse with cold water to stop the cooking.

Next, start simmering a pot of water to poach the eggs. Poach them one at a time.

Right before serving, toss the pasta with the turkey-ham-shallot-and-pea mixture, again adding olive oil as needed. Add the lemon zest and a pinch of salt.

To serve, pile the pasta on a plate and top with the poached egg. Finish with a pinch of flaky salt and fresh cracked pepper.
WINTER RADICCHIO, BLOOD ORANGE + FENNEL SALAD
Courtesy of The Living Kitchen
Ingredients:
1 radicchio, sliced

1 fennel, sliced in thin pieces or shaved (you can use mandolin or food processor slicer setting)

1/2 English cucumber, sliced in thin discs

2 blood oranges, sliced in thin discs (remove the skin)

large handful parsley, chopped

handful of the fennel fronds, chopped
Optional:
2 roasted beets, sliced in thin discs
Dressing:
1 lemon, juiced

1/4 cup extra virgin olive oil

2 Tbsp apple cider vinegar

1/2 garlic clove, minced

1 tsp dijon mustard

sea salt and pepper to taste
Directions:
Slice all of the vegetables in thin pieces.  If you have a mandolin or food processor with slice attachment, you can slice the fennel easily with either of those.

Toss together in a bowl.

Make the dressing by whisking the ingredients together.

Toss the vegetables with the dressing.  Add sea salt and pepper as needed to taste.
INSTANT POT CAULIFLOWER AND BUTTERNUT THAI CURRY
Courtesy of Oh She Glows
Ingredients:
For the curry:
1 tablespoon (15 mL) extra-virgin olive oil

1 (14-ounce/398 mL) can light coconut milk

1 (14-ounce/398 mL) can diced tomatoes, with juices*

2 cups (260 g) chopped cauliflower florets (1-inch pieces)

2 cups (340 g) peeled and cubed (3/4-inch) butternut squash

2 tablespoons (30 mL) red curry paste**

1 teaspoon (7.5 mL) dried flaked onion***

1/2 teaspoon (2.5 mL) garlic powder

3/4 teaspoon fine sea salt, or to taste

1/4 teaspoon cayenne pepper

Lots of freshly ground black pepper, to taste

1/2 cup (100 g) uncooked red lentils

2 cups (75 g) packed stemmed and finely chopped kale or chard
Serving suggestions:
Cooked jasmine rice or grain of choice

Fresh chopped cilantro leaves

Fresh lime juice
Directions:
Add all of the curry ingredients (except the red lentils and kale/chard) to the Instant Pot and stir until combined.

Add the red lentils on top of the mixture and gently press them into the liquid (do not stir the lentils into the mixture as this can result in a burn notice in some machines).

Secure lid in the lock position and check that the Steam Release Handle is pointing to the "Sealing" position.

Press the "Pressure Cook" button (or "Manual", on some machines) and set the cook time to 5 minutes on high pressure. After 5 seconds you'll hear a couple beeps and the screen will say "on". The cooking process has begun! You can now go do something fun for about 10 to 15 minutes while the curry cooks.

You'll hear a few beeps when the timer is up. Immediately do a "Quick Pressure Release" to avoid overcooking the curry. I stand back and use a wooden spoon handle (never my hand!) to shift the Steam Release Handle to the "Venting" position to release the pressure. Once all of the pressure has been released, the float valve will sink and you won't hear steam anymore.

Carefully open the lid and stir the curry. To achieve a thicker texture, I like to mash a bit of the curry with a potato masher, simply pulsing about 4 or 5 times around the pot. You can also blitz it for a second or two with an immersion blender.

Stir in the chopped greens until thoroughly combined and secure the lid. Set the Instant Pot to the "Keep Warm" setting and allow the greens to wilt for about 5 minutes in the curry. Press "Cancel" to turn the heat off and release the steam again, if necessary, before removing the lid.

Serve over rice or grain of choice, if desired, and garnish with cilantro and lime. The lime juice gives it a lovely brightness, but avoid using too much as it can overpower. I always add a sprinkle of salt and pepper before serving too.
 Nutrition Information + Tips:
The canned diced tomatoes that I use are quite "soupy" and liquid-y. If your can seems to be on the low end of the liquid content, I would recommend adding a 1/2 cup of water to this recipe before cooking.

I love this Thai Kitchen Red Curry Paste—it's shelf stable and comes in a small glass jar. You can often find it in the international cuisine aisle of grocery chains.

Dried flaked onion is less concentrated than onion powder. Onion powder will work as a substitute if that's what you have on hand, but I would suggest using a smaller amount (around 1/2 teaspoon) as it's more flavourful.
Check out her recipe here for a stovetop option!
CHOCOLATE CHAGA NICECREAM COOKIE SANDWICHES
featured on Hannah Bronfman's HBFIT courtesy of Sugared Coconut
Vanilla Coconut Nicecream Recipe:
Ingredients:
2 ½ Frozen Bananas

½ Cup Coconut Mylk

⅓ Cup Coconut Flakes

2 Tbsp Vanilla Coconut Yogurt

1 Tsp True Vanilla

½ Tsp True Cinnamon

1 Tsp Maca

Optional: ¼ Cup Unsweetened Vegan Chocolate Chips
Directions:
Chop bananas

Blend all ingredients together in a food processor until smooth

Pour nicecream into a container and let freeze for 1-2 hours
Directions For Cookie Sandwich:
Scoop ¼ cup of nicecream on top of cookie

Place another cookie on top of nicecream to create a sandwich

Optional (but recommended) dip one half of cookie sandwich into melted chaga chocolate

Freeze for 30 minutes

Enjoy!