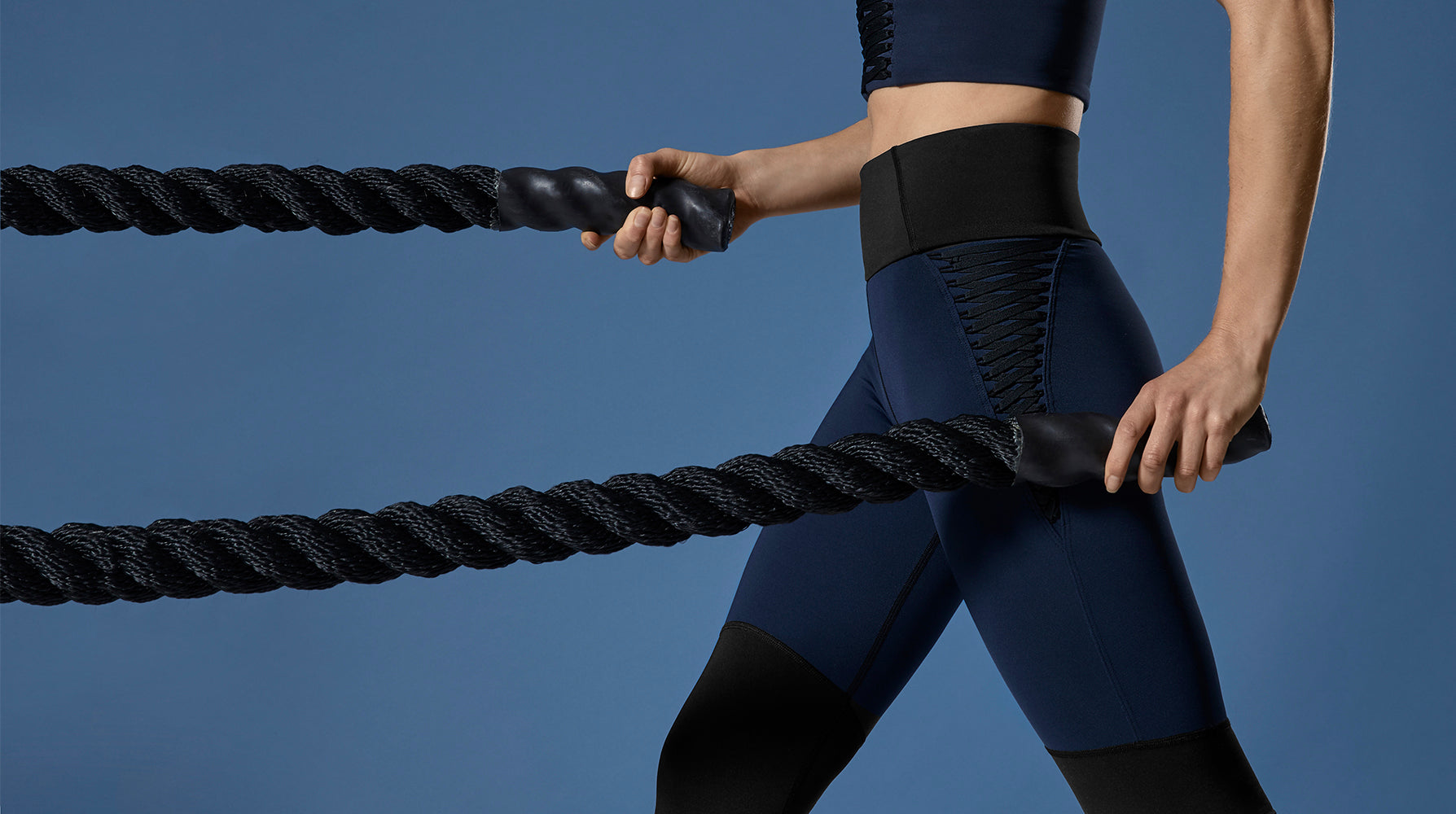 SETTING THE LEGGING STANDARD HIGH
It's official. The high waisted trend is here to stay. We've seen skinny come and go, and bangs come in and out, but since the 80s revival of the high waisted cut in the early 2010s, it hasn't ever really gotten the boot out the door. The high waisted phenomenon has even moved beyond the classic Footloose denim that we've all grown accustomed to and love. Leggings have evolved in activewear too. As the workout legging began to take centre stage coming out from underneath neon bodysuits (sorry Jane Fonda), leggings have needed to adjust to the physical demands of the active female body.
Here at MICHI we're obsessed with high waisted. So much so that we have two types. The 3-inch MICHI waistband is our signature. We use our special woven elastic to have a band that makes everyone feel good about their waist without the worry of having to pull your leggings up mid squat. That's why the Inversion Legging has been so popular for Spring. We think it's fair to assume that the feminine standards of today require a good high waist that not only "cinches", but really makes us feel good about the curves that we have no matter how big or small.
Whether you feel more advanced, or want everything from the ribs to your hips kept in, leggings the like the Alchemy High Waisted Legging with our 4-inch waistband are for you. This high waist 2.0 has a bit more stretch with a shaper mesh in between both fabrics in the front. This allows for maximum comfort as well as the same cinched feel you get from our 3-inch waistband.
We've seen the high waisted trend in a classic light wash Levi's and a white tee; but how do we channel this vibe with activewear? Well, we've picked out some of our most favorite ways yet.
High waisted leggings with a cropped tee. It's the oldest style in the book satisfying that mom jean trend that has never left. A classic white or neutral tee, tied up or loose, can still have you feeling more covered, while showing the classic 3-inch MICHI waistband and fit. 
A high waisted legging with a cropped sweater is a great way to get the warm up layer that you need as well as a transitional top to throw over your look before and after your workout. Anytime we can get an all day look that can take you beyond the gym with a cropped hoodie, we are not complaining.
Photo taken by @katpage
Sometimes it's a quick run out the door, and thinking about the perfect pairing with your high waisted leggings is not in the question. We're obsessed with the bomber trend that's partnered up closely with the high waisted look. Shannon Nadj of Hot Pilates can rock a good high waist looking super effortless with a kick ass bomber to match. Need one? Try our Ballistic Jacket. 
Just because you're wearing high waisted leggings does not mean you need to let the world know. The high waist has much more than a visual appeal. It hugs the body in, giving it a flattering, natural silhouette. Consider our high waisted leggings for travel or commuting when you want to be comfy, where sitting might also be a huge part of the journey!
Header image courtesy of Carbon38