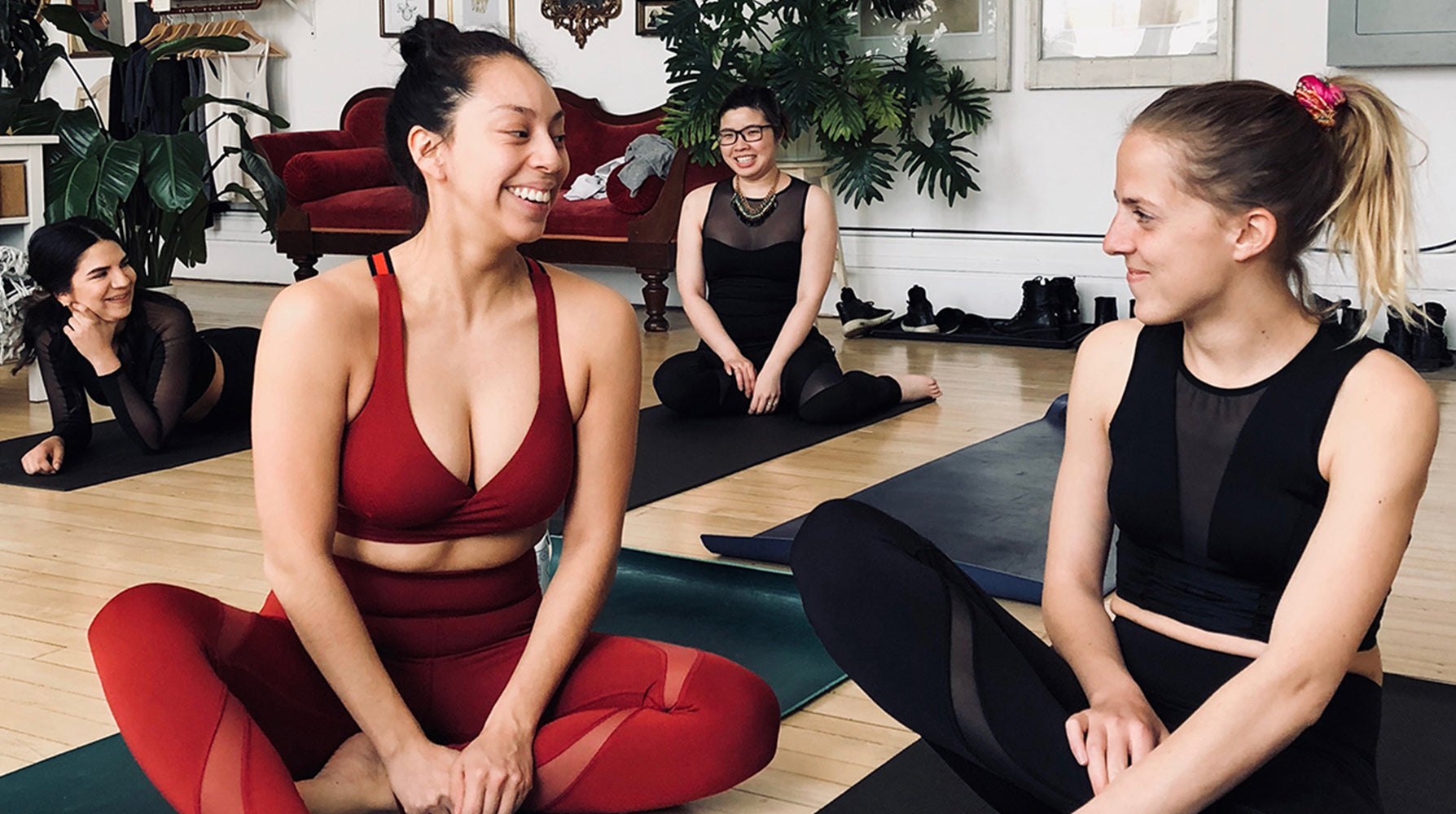 MICHI REVIEW: RED ON FIRE
Now that we've introduced you to some color this Spring 2018 it's safe to say that RED is the NEW BLACK. At least for Spring we like to think so. As someone who likes to think their wardrobe is as colorful as their gleaming personality, black is my go-to. I'm in an uncompromising toxic relationship with black and am continuously caught in the middle of some sort of debate in whether black is a shade or a color. BTW. It's a color. So when I saw red in our Spring 2018 collection I was excited, and intrigued, but mostly curious about how I was going to go colorful for my workout routines. Especially when I like to sweat a ton, and hide my boxy figure behind a slimming and lengthy color tone of BLACK.
I decided to take this experiment to the gym (where else?) and see how I could incorporate red into my workout outfits from entry level to extreme, without holding back on the sweat.
ENTRY LEVEL RED:
Conveniently enough, my most minimal red outfit was for a weight lifting day. Specifically, leg day. This is where I am the most isolated at the gym. I like to put my headphones in, lift heavy, and not talk to anyone. Even my mom! Because yes, we do work out together sometimes… Only kidding though. I do talk to my mom. Exercising no matter how much or little I do, is meditative for me. So when I'm looking to go up in weight, I like to remain focused on breaking a sweat and pushing myself to the next limit. I opted for the Principal Bra in Fire Red, to splash a bit of colour into my "DON'T MESS WITH ME" attitude that I was sporting that day at the gym. I loved the support that I received, and I liked that you could see the bra from the long arm holes of the Vapor Sleeveless Hoodie. It worked with my outfit as I'm holding barbells on my shoulder and exposing my sides for the majority of my workout. The good thing about only showing a little amount of Fire Red, is that you're in control of how much or little you want to show. I liked that the option was there to be as tame or out there as I wanted to—which on leg day, I like to keep it low key.
GOING STEADY WITH RED:
Okay. In terms of MICHI's Spring 2018 Earth Red Inversion Leggings, I think it's safe to say I'm obsessed. I love the versatility from such a bold color. It's subdued enough, that I found it a perfect choice to go on a run and check out the cherry blossoms at High Park. The mesh inserts are super slimming and breathable, which I found to be very helpful when I was running around the neighbourhood. I felt refreshed and comfortable even after a 5km run. Once I finally stopped to enjoy and smell the flowers (no pun intended), I found the temperature to cool down, and the sun to hide behind some clouds. My temperature immediately climatized as my leggings and Stratosphere Pullover dried from the sweaty run that I had just completed, but felt warm enough from the coverage of the legging and pullover. The Earth Red Inversion Legging was super approachable and easily paired down with a black top like how I styled it in this picture! It was colorful enough for me feel more than comfortable to wear it all day and show off a more colorful personality in my wardrobe than I'm used to.
FULL BLOWN FIRE RED:
Since I was going full fire red, I thought that I would pick a workout to match. I did a boot camp class at my local gym that gets my cardio going, as much as my sweating. To put into perspective, my instructor decided to incorporate skipping rope and high knees—I'm still a little traumatized. But #noregrets! The red was a bold choice, but I got a ton of compliments. The mesh on the Inversion Legging did provide some good ventilation for my legs as I find when I take this class, my entire body sweats. Please refer to image to see that my knee in fact broke in a sweat. I am a huge fan of the contrasting red tones on the Ignite Crop Top as I found that it hid my sweat nicely. I tend to sweat mostly around my ribs. Though visible immediately after my sweaty bootcamp workout, after about 15 minutes of walking home and eating dinner, I was dry with no sweat marks! Keeping true to our theme and inspiration of color in performance technology, red makes us feel energetic, and powerful. It's unapologetic, and bold. Red is a stand out color, so it was important to know what the hype was all about in the Spring 2018 collection and experience it. In a way, I feel inspired to dive to the more colorful side of living as I was impressed with how red was so much less intimidating than I thought. The reds in Spring 2018 will have you wanting to reach for it every time when you're torn between red and black. I've crossed over!