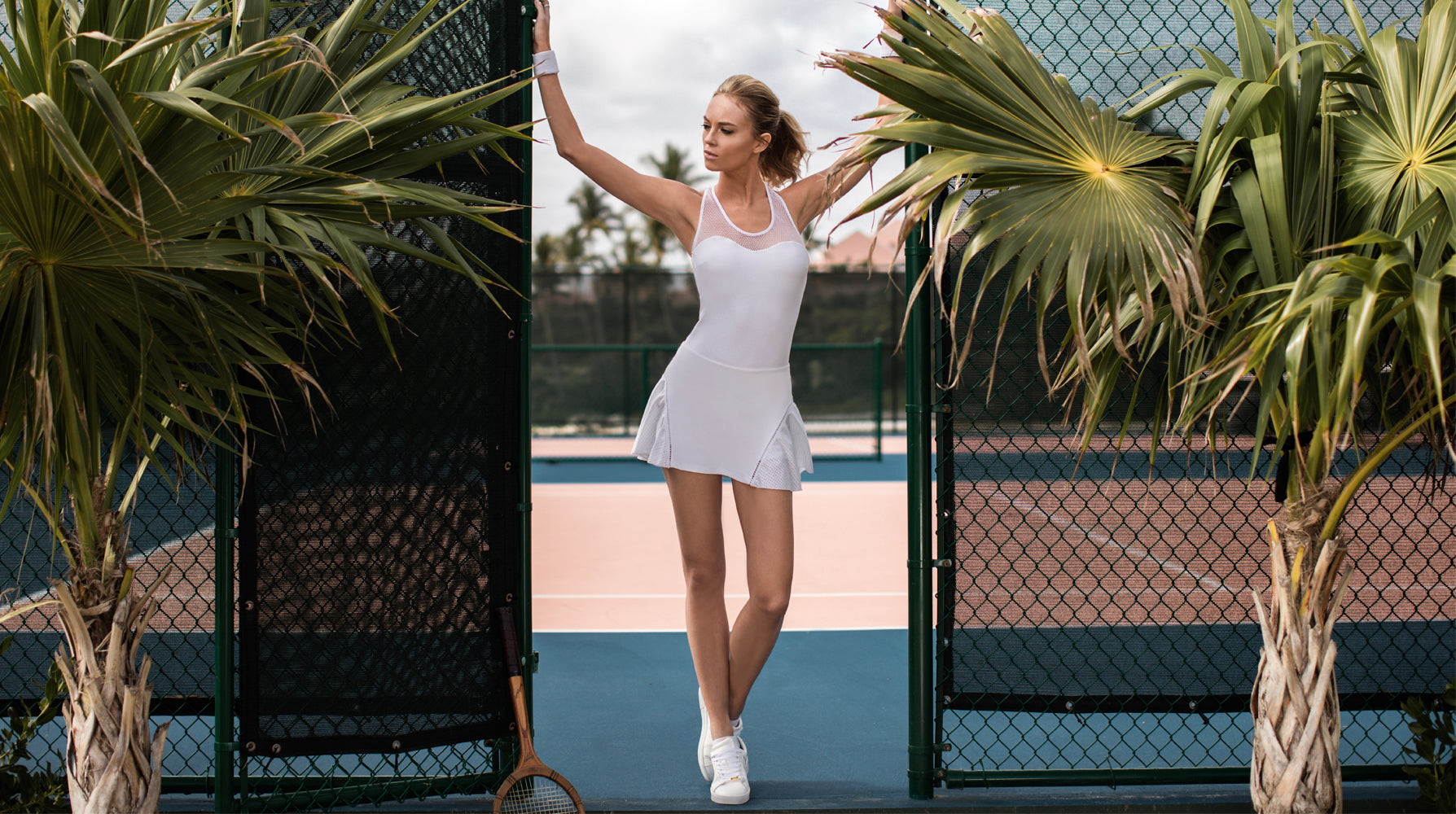 Serving Stylish Looks for the US Open 2018 with Julia Glushko
We spoke with professional tennis player and MICHI brand ambassador, Julia Glushko, to discuss the upcoming 2018 US Open and her passion for fashion on and off the court. With tennis coaches as parents, the Ukrainian born athlete was immersed in the sport at a young age, stepping onto the court for the first time when she was only four. Julia later moved to Israel, where she eventually made her professional debut in 2004. When she isn't on the court scoring aces in her MICHI tennis whites, she's hitting the gym, documenting her international travels on Instagram, and serving fashionable off-duty looks.
Photo taken by @julglushko 
Over the last few years, we've seen the influence of the fashion industry on tennis apparel, blurring the lines of a once strict all-white dress code for the sport. Unlike Wimbledon, where players must adhere to traditional tennis whites, the US Open allows tennis pros the freedom to express their own personal style. The NYC tournament, which starts August 27th and continues to September 9th, will be sure to have some hype around favoured winners as well as tennis trends which we can't wait to see.  
The powerhouse athlete was busy slaying her match in Thailand this past week, but took the time to share with us her excitement for the upcoming 2018 US Open and how MICHI's tennis collection  has become her sportswear staple.
MICHI: How did you feel in your MICHI outfit?
JULIA: I absolutely loved playing in my MICHI tennis set, and the fabric feels really nice on the body. It felt really comfortable while I was playing, running around and sweating.
It's important for me to feel and look good in my outfit when I'm out there, and I appreciated both the fit and the style. I received great positive feedback from the other girls at the last tournament I played. 
MICHI: How would you style or accessorize a court ready outfit for the 2018 US Open?
JULIA: Looking and feeling good on the court is something that's important to me during a game. I like tucking my shirt into my skirt when I play; I think it gives the outfit a little "kick". I love having my hair up in a braid and sometimes I'll add a visor. I also always have sweatbands on both my wrists!
MICHI: What are your goals at this year's 2018 US Open?
JULIA: I'm very excited to play the US Open. It's my favourite grand slam, since I've always played well there. It was the tournament where I had my first grand slam win and my first big result, reaching the third round from qualifying. This year, my goal is to qualify the three rounds to the main draw!
MICHI: Do you have a fashion icon on or off the court?
JULIA: I love fashion! Vogue Magazine and Harper's Bazaar are my travel essentials. Naming just one fashion icon is tough. I would say, Coco Chanel, but is that too obvious? Kate Moss would also definitely be up there on my list.
Here at MICHI we can't wait to keep up with the US Open in our OG New York stomping grounds. Good luck Julia! We'll be cheering you on <3