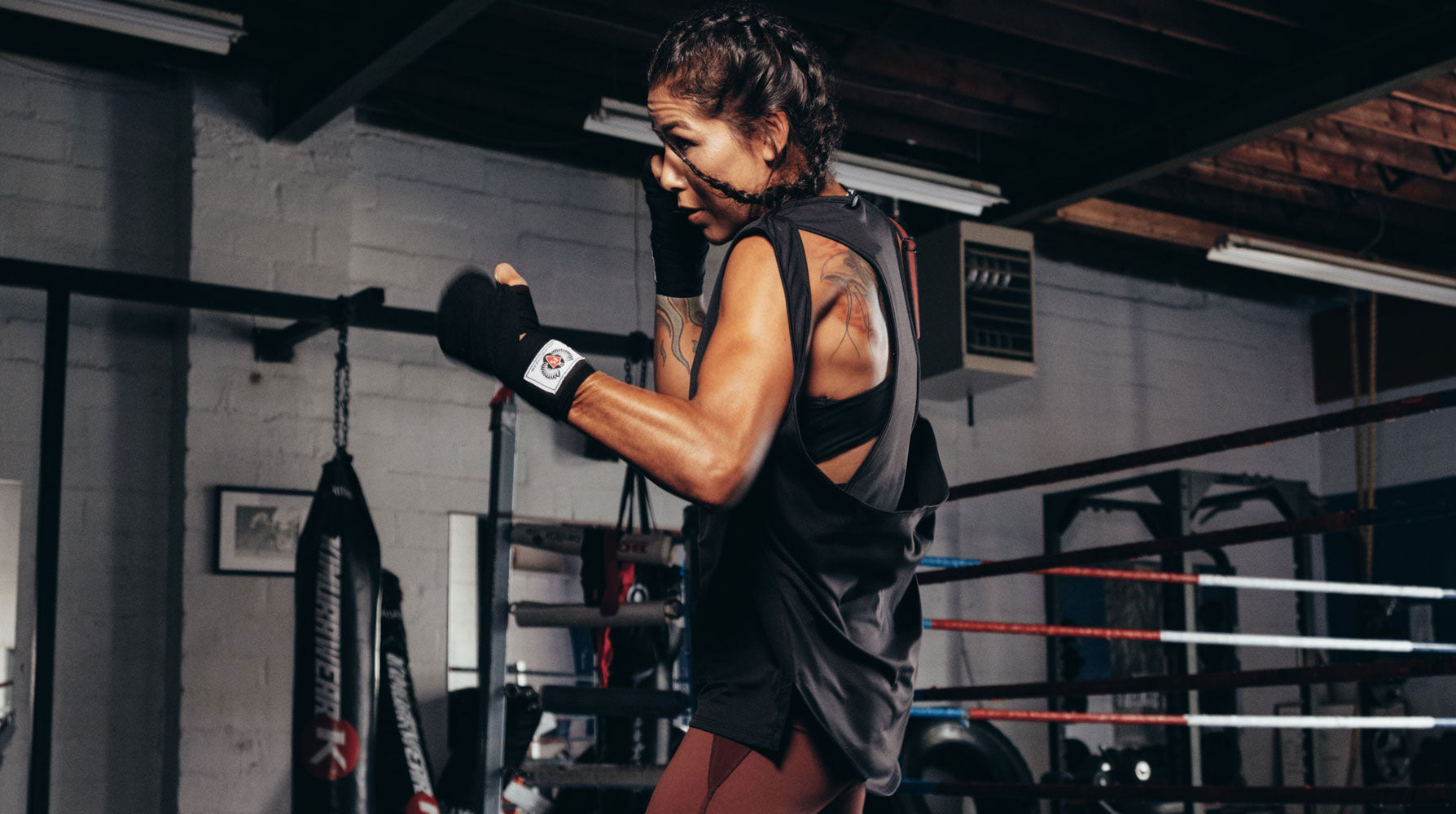 PACK A PUNCH IN FALL 2018
You might be noticing something different this time around for the launch of our second delivery of Fall 2018. It's all about the power and confidence that we want our women (and men) to feel as they approach life's challenges head-on. MICHI was fortunate to collaborate with National Champion Muay Thai, MMA, and Invicta FC Fighter, Ashley Nichols. Her title and victory list goes on, and don't worry, she lists a few below.
It's fair to say Ashley doesn't hold back when it comes to what motivates her every day. Ashley's story begins in a small First Nations community where life wasn't easy. Despite numerous challenges throughout her life, she succeeded in overcoming adversity to build herself into a champion and into a big source inspiration to others. She's determined, humble, disciplined and as powerful her '8 Weapons'.
Here's what Ashley has to say about discipline, overcoming obstacles, and the best hype song you can listen to before entering the ring.
To be a champion of your caliber, it takes discipline and commitment. What is your training schedule like?
Training consists of strength/resistance, conditioning/cardio, wrestling, shoot boxing, Brazilian Jiu jitsu, and Muay Thai, with the occasional boxing.
What motivates you?
Being an inspiration for First Nations communities, my family and loved ones through my journey in Muay Thai and MMA, and for other fighters in the community, and for my team. Also, the journey to evolve as a person and fighter and put on exciting performances in the cage or ring plus the motivation to challenge myself by facing the best in the world.
Usually successful people have contradictory personality traits. What are some of your personality traits that have helped you become a champion?
1. The decision to become more and build more than what I was or what I had growing up.  We do the best we can with what we were given and I want to continue to improve as a person in the ring and in life.
2. Discipline to continue to train and out the effort forward everyday. In the past I thought if I won titles it would prove my self worth. It made me really driven but later I realized it isn't the titles won which defines our worth, but the love in our hearts for self and others. It's the value we can bring to others' lives which will help make the difference. It's important to find lessons in mistakes or losses, and use them as motivation to evolve, grow, and learn. That's my drive to challenge myself while aiming to compete with the best in the world.
What is the biggest challenge or obstacle you have overcome?
My biggest challenges and obstacles have been rising above adversities like alcoholism, drugs, suicide, poverty, and domestic violence. I have worked on myself to overcome these by choosing not to follow the same path. I am still a work in progress but I know how I want to live my life, choosing to live a sober, spiritual, and healthy lifestyle.
What are some of your greatest achievements?
IFMA world champion
WPMF Champion
TKO MMA 4 woman tournament Champion
Facing Anissa Meksen in GLORY Kickboxing debut.
Getting signed to Invicta FC.
What are you known for as a fighter?
Pressure fighting, good boxing, technique, high pace, and excitement.
How many fights have you been in?
17 pro MT and K1
6 pro MMA
1 pro Boxing
33 amateur Muay Thai
6 amateur Low-kick kickboxing
Total fights: 63 fights and around 9-10 smokers/in-house
Do you do any other types of workouts to switch it up or to cross train?
Oly/powerlifting to maintain weight, speed, and strength.
How do you cut weight before a fight yet maintain maximum energy to fight at your best?
Maintain a good diet and stay 10 lbs. close to my fight weight.
Favourite cheat food? ...If you even cheat ;)
Over the years this has changed. Stepping up my diet game, now my favourite cheat food is vegan nachos or dark chocolate.
Pre-fight pump up song?
I'll listen to a couple genres mostly rap and house and then for my walk out A Tribe Called Red is my choice.
Favourite MICHI item from our Fall collection ;)
I really like the Speed Bra and also the Le Mans High Waisted Legging. They fit great when training. MICHI clothing is awesome! I would like to try the Baltic Pocket Legging too!
See Ashley in everything Fall 2018 here. Whether high intensity or zen, Fall 2018 has some of our favourite color combos and details to have you feeling great with whatever you're tackling today or tomorrow.
Photography by Reynard Li
Shot at Siam No. 1 Muay Thai Academy in Toronto, ON