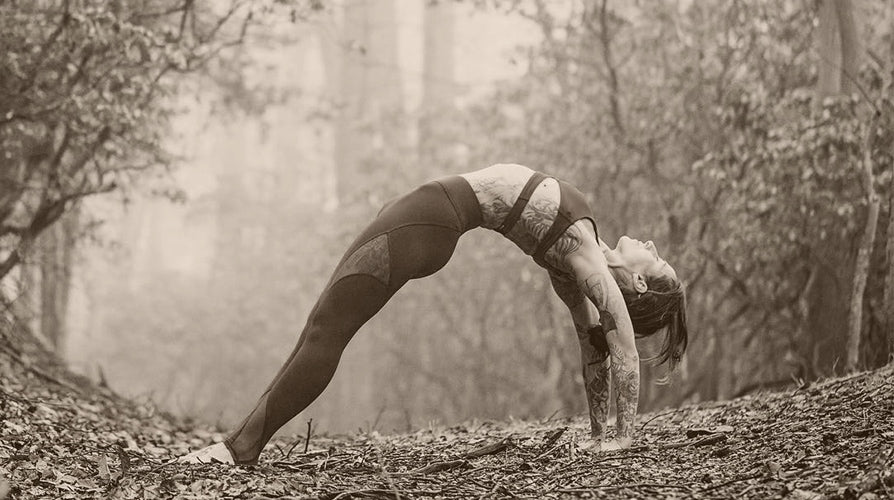 A MICHI HALLOWEEN
It's that time of year again! Whether you've celebrated Halloween weekend or not, MICHI can come through for your workouts, lounging, and even costumes. If you're on docket to lead a Halloween Themed cycle class, have some little ones that need trick-or-treating supervision, or simply put just want an excuse to wear activewear as a costume, we're here to help!
MICHI knows you can either be over prepared or under prepared for Halloween, and we'd be lying if we said we've had our Halloween costume down pat since August (we all know someone that actually does this). We want to offer an extending hand to make sure your costume looks just as legit as the next person while preserving wit, originality, and trend-forward thinking. After all, we do not condone the white bedsheet-over-your-head approach as an easy way out.
Nothing a quick Skeleton Stencil can't fix to make the effect of a Skeleton costume come to life. The trick is to cover as much skin as possible while rocking something fitted and bodycon to give the the Skeleton as much of a realistic look as possible. The Bolt Running Top has a perfect thumb-hole to extend the black fabric all the way to the palms of your hands, while getting full leg coverage from the Siren Jumpsuit. Print out some skeleton bones and you're good to go!
If there's a vibe we're into it's Alex Owens from Flashdance. Being a badass dancer in heels while rocking that infamous sweater in grey is goals! The Farfalla Sweatshirt is perfect to make the iconic picture come to life all while staying cozy during your Halloween evening. What's more 80's inspired than a cropped legging and heel? Add the Stardust Crop Legging and score yourself a red pointed pump—a shoe essential for any woman's wardrobe. Don't forget to pin the sides of your hair adding tight curls followed by LOTS of volume. This is the 80's we're talking about.
It doesn't get more infamous than this. How many times have we all seen Ariana Grande in none other than thigh high boots and a big boyfriend sweater. As the trend blew up and our girl Ari went blonde, it came as no surprise that this mega pop star was going to rock an elongating high heeled boot with her off-stage iconic loose big hoodie. A quick costume fix for anything last minute. Rock the Dune Hoodie with some thigh high boots, slick back pony, an epic cat eye eyeliner and you'll be mistaken for Ariana Grande no questions asked. Looking for a bit more coverage? Add the Kinetic Short under without taking away from the thigh high to boyfriend sweater ratio. Pete Davidson not included.
Quick! You just got invited to a last minute Halloween Party and you have no costume! How convenient that the Dive Rash Guard and Moto Zip Legging happen to be hanging so clean and white in your closet. If you have old white ribbon, loose white fabric, even toilet paper! A mummy is a sure fire solution to staying in spirit with the holiday while setting a record time for costume conceptualization. Don't worry—we won't take any credit for it. To our credit, the moto rib fabric of the Moto Zip Legging and wrap around band of the Dive Rash Guard seem to be fitting to match the wrapping detailing of the classic costume.
I'm giving you everything! You know that iconic belt from our girl Mel C who is no other than Sporty Spice. If you can also work a backflip in this costume, you've nailed it! Turbo Track Pant? Check! Principal Bra? Check! That classic 90's armband permanent tattoo? If you have it—check? But if you don't, nothing a quick run to the party store can't fix to get you sportified in Mel C fashion. If you have a microphone or headset somewhere in your home, make sure to add that in because let's be real… were you an iconic 90's pop group if you didn't have the microphone headset to lip sync to?
It's quick, it's effective, and it's right on the money. What's red, evil, halloween themed and probably the fastest fix to a last minute Halloween costume? A Devil. Anything MICHI and Fire Red will work perfectly for this! We're team
Inversion Legging
and
Inversion Bra
to keeping it sporty and more on trend but unfortunately we don't have any workout devil horns to offer you. Add those in and mix in some red makeup through your lipstick or eye shadow and you're good to enjoy the Halloween evening before next year's creeps up on us faster than Michael Meyers!