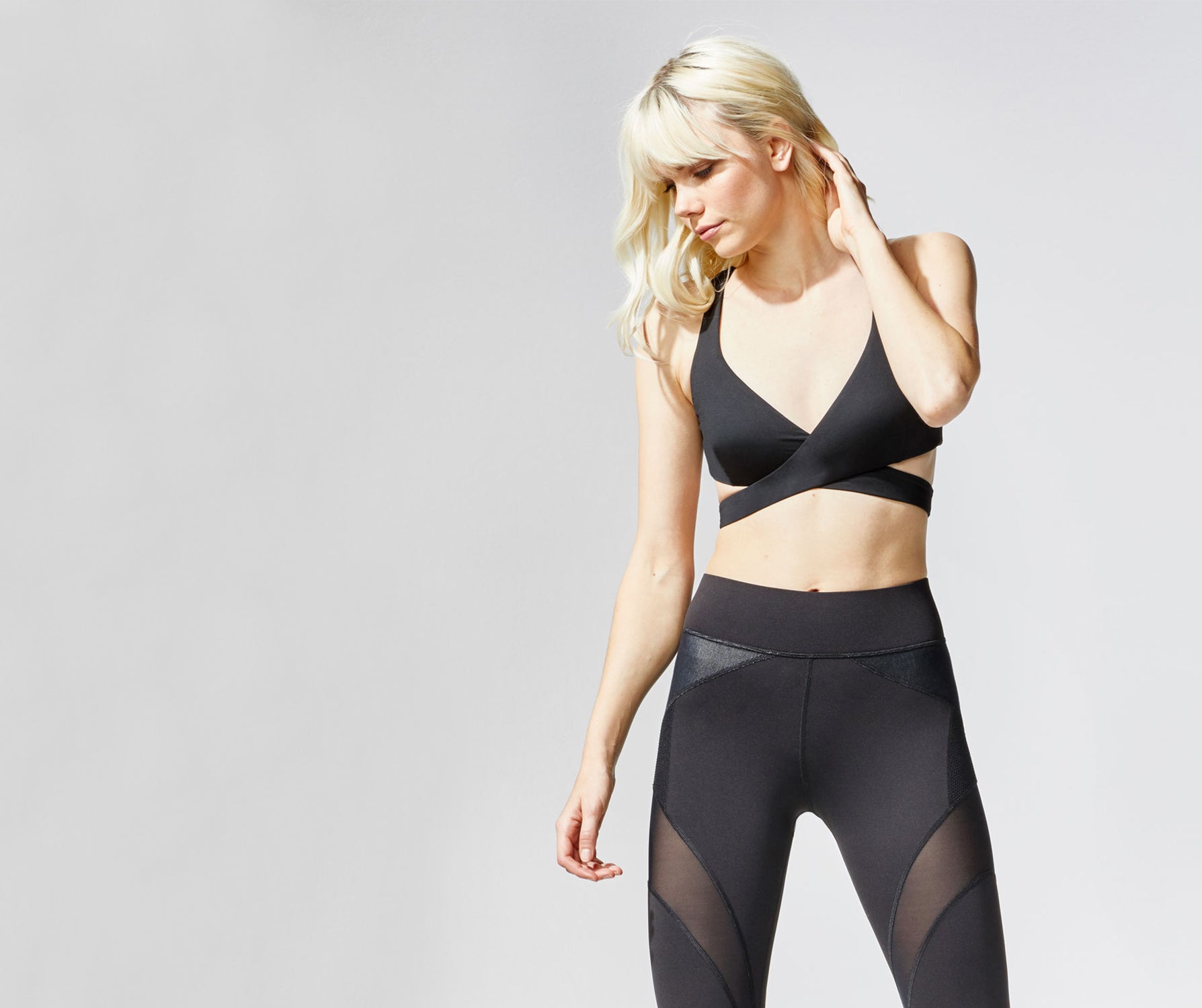 IT'S ALL IN THE DETAILS
Next up in our MICHI DNA blog series is focusing on two key features this week. These are the unique MICHI details that make our activewear instantly recognizable from a mile away. Our signature mesh and strappy details found throughout our MICHI product line, serve a purpose and is just as much functional as it is fashionable.
ALL ABOUT THAT MESH
Frustrated with the lack of innovation and style in the market, founder Michelle Watson designed an activewear line for women that worked as hard as she did and looked as great while doing it. The decision behind mesh was obvious, it provided breathability and when placed strategically, the inserts provided support of a woman's body where it was needed, throughout their workouts. The way the mesh could look on a legging was inspired by super heroines, '90's European designers, and nature itself. After all, no one said that activewear couldn't be fashionable.
Whether you try on our MICHI leggings or tops for the first time, features like the waistband and the mesh are what you notice first. All while providing support and comfort and optimizing your workout routines to achieve your goals.
Experience the elongating properties and strategic placement of our mesh when worn on the body. Our Mirage Legging has a contouring effect with a mesh panel that rounds the middle of the thigh. Made on the body, the mesh panel in your Mirage Legging creates a slimming, tactile effect while lengthening your legs. This durable, fine mesh insert provides dimension and ventilation. What's more, our mesh also has 8-way stretch that can allow for easy movement throughout the entirety of the leggings. Our mesh works with our 8-way stretch fabric to ensure you're not limited. Find similar mesh contouring in the Glow Legging, and Inversion Legging. Check out other leggings that integrate slimming effects with mesh in styles like the Stardust Crop Legging.
Mesh inserts in our workout tops and sports bras, such as the Serpentine Tank, provide high performance in a fitted tank top with mesh inserts that contour the body and sculpt the feminine form. These artfully placed mesh inserts provide superior airflow when wearing a fitted tank that's close to the body. This allows breathability while creating a slimming effect. Find mesh in other MICHI tops like the Inversion Bra, Galaxy Tank, and Bionic Bra.
STRAP IN
MICHI has developed the sports bra from being the plain unflattering fit that was once sported in gym class to something more memorable that can fuel your confidence. Thanks to our straps, MICHI has developed sports bras that can make a statement while performing the way a sports bra should. The benefits of making our activewear on the body, means that MICHI has a strong understanding of the female form. This allows us to get innovative with our design without neglecting the fundamentals that go into what makes quality activewear. When it comes to straps, our straps act like a secondary layer for support wherever they're incorporated on the bra.
The Feline Bra is a bondage-inspired silhouette that is practical and pretty. With adjustable straps, the triangular detail makes for perfect added support. Rock this Feline Bra with a mesh classic like the Illusion Legging or a scooped neck t-shirt and jeans.
Experience the benefit of straps in another MICHI classic like the Siren Bra. This bra relies on the strap detail to provide the support that you need for your workouts. This wrap-around silhouette is sweat-wicking with next-to-skin softness. With adjustable straps in the back as well, all 4 straps work together to provide ultimate lift and support! Another great strappy recommendation if you're thinking of rocking a strappy bra at Coachella! Enjoy other variations of strappy detailed bras like the Glow Bra, Le Mans Bra, or Elektra Bra.
Embedded in our DNA, our waistbands, mesh and strappy details make for a MICHI signature that belongs in your activewear wardrobe. If you haven't yet experienced these MICHI elements, become a MICHI Insider to receive 15% off your first purchase!
Where do you want to see mesh and strappy details next in your MICHI? Slide into our comments and let us know!
Xx MICHI team