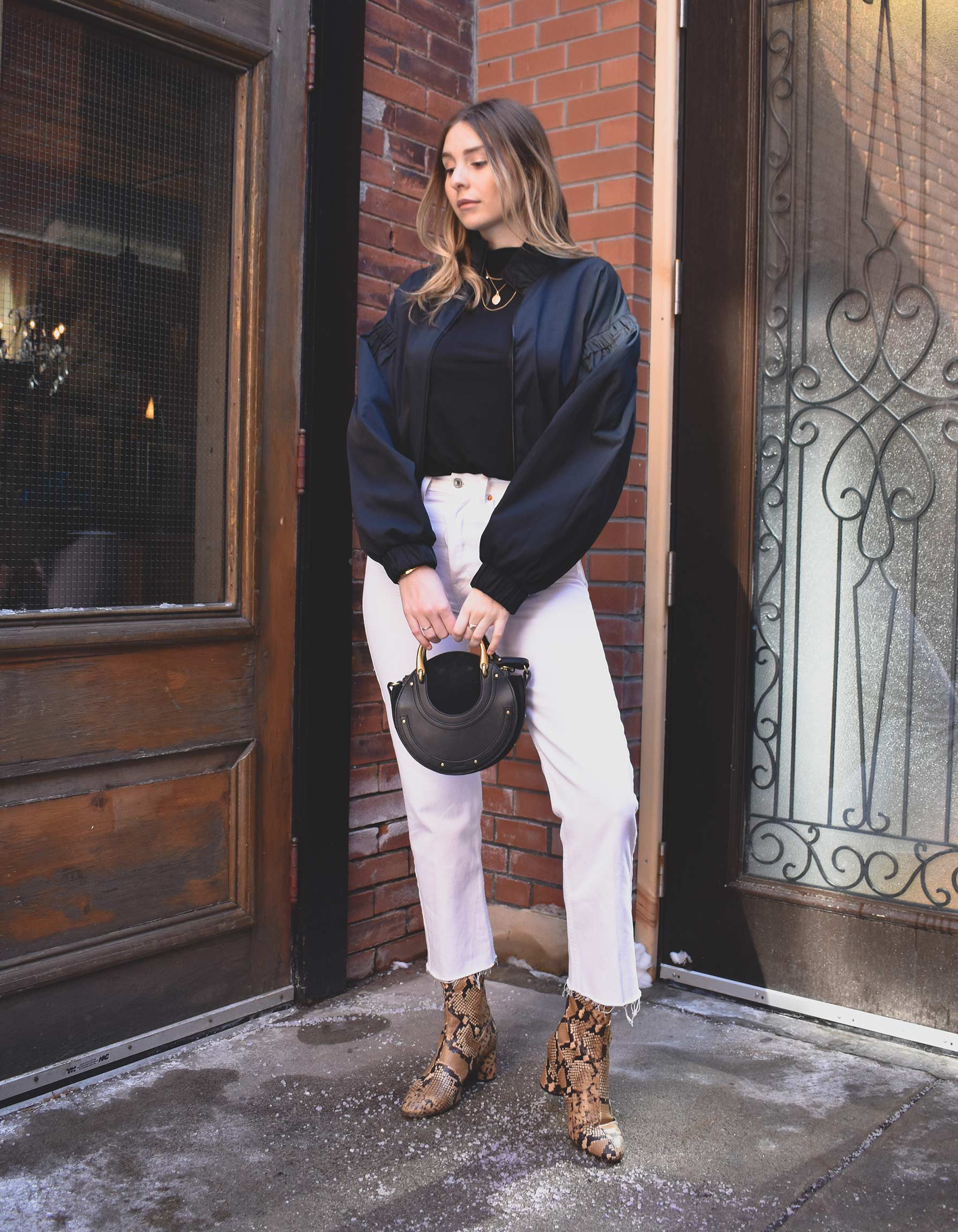 5 WAYS TO WERL JACKET
Remember when Cheryl Frasier in Miss Congeniality says her favorite date is "April 25[?], because it's not too hot and it's not too cold. All you need is a light jacket." Well, MICHI has that jacket! Activewear is comfortable. Any time we can wear a quality 8-way stretch legging for work or brunch we're in! Which is why MICHI designs go-to ready-to-wear staples that are as durable and reliable as they are fashionable. Our activewear is made to be versatile for your toughest workouts or power lunches. Meet the Werl Jacket, a must-have piece from Spring 2019 that embraces our favorite qualities of the season.
The Werl Jacket is a sporty zip-up with ruched detailing on the neck, shoulders, waist and wrists. It's the best companion for rocking it pre and post workout but here's how to make the Werl Jacket worth your while.
SEE YOU LATTÉ
The perfect thing about the Werl Jacket is that you can rock this style just as much indoors as outside. The ruched sleeves allow for room to layer this coat on the chilliest and warmest of days. We know Miss Rhode Island was talking about April 25th– over a month away, but that's why rocking the Werl Jacket right now provides longevity for a quality ready-to-wear piece like this one. Style it with a cable knit, or angora wool sweater tucked into some mom jeans and a belt. You can sit back and enjoy a latté while reading your fav novel as you wait for April 25th weather to arrive.
GOTTA RUN
The Werl Jacket is a perfect finish for an outfit that's quick and easy for the busiest of days. Maybe you're day is filled by the hour with appointments, errands, lunch dates, workouts, and more, but you don't want your schedule to show in your outfit choice. The Werl Jacket has the flare you need to add a level of uniqueness to your city style look without having to put much effort in the other elements. Something as simple as a vintage boyfriend tee, with the Liquid Bike Short and Nike Cortez sneakers are all you need to get through your to-do list. Throw over a vintage leather fanny pack like this one and make sure to get your coffee to go!
DINNER IN THE URBAN JUNGLE
Remember the nay-sayers with their "no white after labor day rule?" Well we've been seeing a lot of white this winter and into spring and we love it. The contrast of a white pair of denim with a dark top like a fitted black turtleneck creates a nice slimming line. Want to shnazz up your look for a dinner date? Throw on a pair of (faux) snakeskin booties and the Werl Jacket on top. Replacing a blazer or evening coat, this jacket will make a statement the next time you're trying to impress someone.
WORK IT. 9 TO 5.
Don't be fooled if you think the Werl Jacket is only for casual weekend wear. This piece can definitely stand a chance in a boardroom whether your boardroom is in a coffee shop or an office building. Because of the neutral colorway, consider the Werl Jacket as a layering piece for your nine to five. We like rocking it with a crisp white boyfriend button-up for a strong contrast. Throw on our Liquid High Waisted Legging with minimal detailing to get away with wearing leggings at work when it's not Casual Fridays. A good Gucci slide like the one you see here elevates the look but even a kitten heel or loafer will do the trick!
SWEAT IT OUT
Last but not least, rock the Werl Jacket the original way we know how. If you're hitting up one of our favorite dance classes from our last blog post, you'll need something to throw on before and after. Say goodbye to your average workout zip up or your college campus hoodie and try the Werl Jacket for a change. Whether the workout was real or you just want to fake it until you make it, this versatile piece from our Spring 2019 collection will have heads turning while you tackle your busy schedule in style.
MICHI Xx