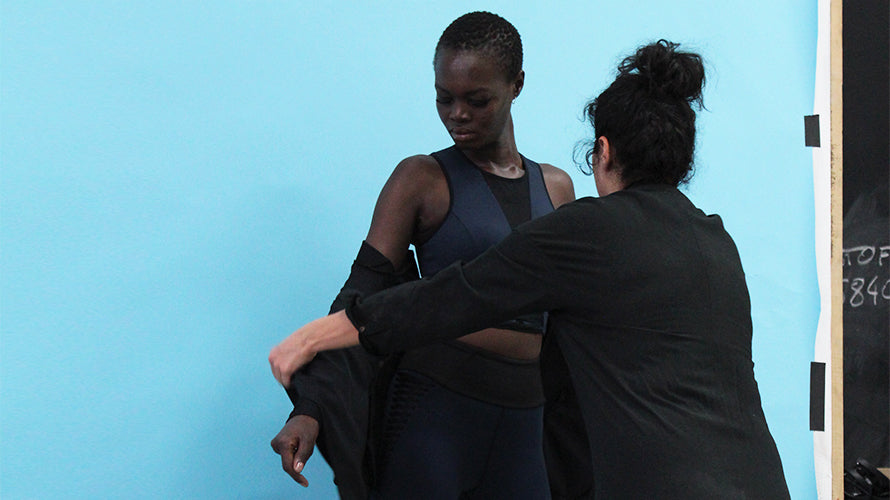 MICHI SS 18 BEHIND-THE-SCENES

Though we're not holding our breaths, there's a warmer breeze outside and it's getting us excited for Spring 2018. MICHI's designer Michelle Watson and team have been cracking away at making this our best Spring/Summer collection yet.
When the snow starts to melt, the world comes alive with color and you can't help but react to what's been hidden underneath all that white these last couple of months. Which is why our Spring/Summer 2018 collection was inspired by color therapy and the effects of color in our everyday lives and surroundings. We talk more about how color inspired us for Spring 2018 in our post on Color Therapy in Performance and Sport but we can't deny that color has inspired in big ways this year.
So how could we show this loud and proud? We wanted color to be the focal point, while keeping our collection just as much in the limelight. Setting the bar high, we made sure to only work with the best of the best when we shot this collection back in December.
We take you back to our Spring/Summer photoshoot on a cold winter's early morning with the amazing goddess Aluad who brought out the vibrancy of the collection with a ton of good feels. The day on set was amped with loud beats that had the entire team singing and dancing on the sidelines while Aluad was the star of the show. If you had told us it was storming and -28 degrees celsius we wouldn't have noticed because it sure felt of warmer weather inside on set. Of course it would not have been possible to get the amazing pictures that you see on our site today without the help of reputed fashion photographer Renata Kaveh and makeup artist Caroline Levin. Here's some behind-the-scenes of our Spring/Summer 2018 Lookbook shoot!