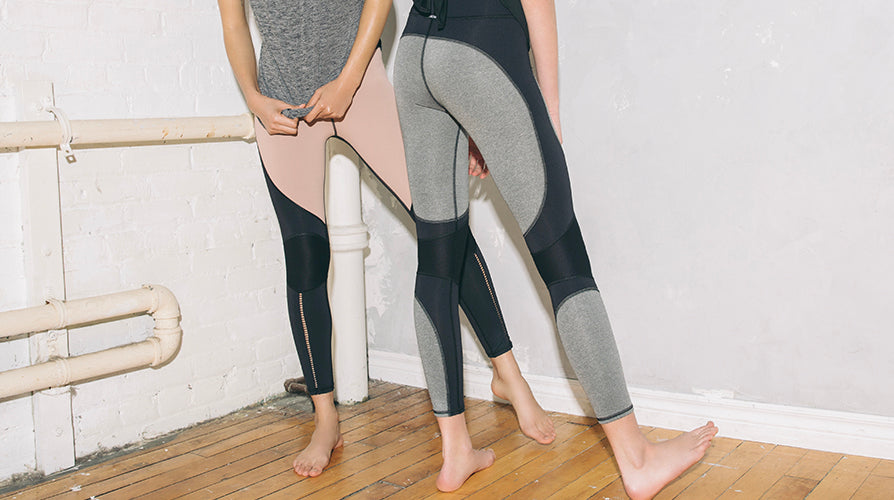 TOP 5 LEGGINGS THAT GO BEYOND YOUR WORKOUT
We're team legging when it comes to wearing a bottom that can take you through morning into night. That's a main reason why our Head Designer Michelle Watson started MICHI in the first place. Overtime, social constructs have warranted our inclination to grab that one pair of leggings that we know could get us through our day. As a result, we're stuck wearing bottoms that we don't want to wear, saving the reunion for our 6pm workout.
We have 5 MICHI leggings that can go beyond your workout and have you looking the part without forgetting where your true priorities lie...
For those that have shunned leggings from your everyday office wear– challenge accepted. Our Strada Legging is one of a kind style. So how do you take it out of this gym and into your boardroom? The moto knee with luxe lace-up down the shin adds character luring you away from your initial "Are you wearing leggings?!" reaction. Sport the style with a boyfriend white button up and blazer, and your secret's safe with us.
Normally when you're out hitting the slopes your go-to thermal long johns look like the ones your dad sported in the 70's. And trust us! We're firm advocates for staying bundled when you're ripping down a mountain in minus degree weather. Next time, wear MICHI's Black Croc Cadence Leggings as a thermal underneath your snow pants. This full-length legging has an extra layer of fabric to make up the Black Croc that you see down the leg, creating more coverage for the cold. Ski village and chalet appropriate!
It's Friday and it's time to loosen up with the girls. Dancing is definitely on the itinerary but wearing a dress is not. Totally cool. Thankfully, the athleisure Gods have enabled more casual and effective clothing that can have you feeling sexy in hot spots where bandage dresses used to be mandatory. Remember when night time dress code prevented you from breaking it down? Not in 2018 it won't. Rock our Extension Legging with wicked booties or sneakers, and a killer crop top. Accessorize and you're good to go!
Date night's a big night, and with Valentine's Day around the corner it's okay to want to look the part. So how can you find a nice happy medium that keeps you feeling comfortable but dressed for the occasion? Sport the Mirage Legging with a heel or bootie, and a boyfriend button up. If you think it's still casual, cinch your waist and add a belt. Now you look great for your man (or woman), and there's enough stretch room to fully take advantage of a quality dinner out!
Doesn't matter where you need to go, jeans are staple. We don't need to tell you that they're great for just about everything. But what if you don't want to wear jeans today. Or any other day for that matter. You want a bottom that's sturdy. Keeps everything in, and even makes your butt look great. Our Ignite Pocket Legging has a moto side panelling to lengthen and elongate your female form. Pockets included. Integrate this legging with t-shirts, dress shirts, dress-it-up, dress-it-down, like you would with your go-to pair of jeans.
Leggings don't have to make up the entirety of your wardrobe, but we're here to pose the question Why not? With a little MICHI know-how we hope you don't have to think twice about picking up your leggings in the morning to conquer the day. At least don't let it be taboo.