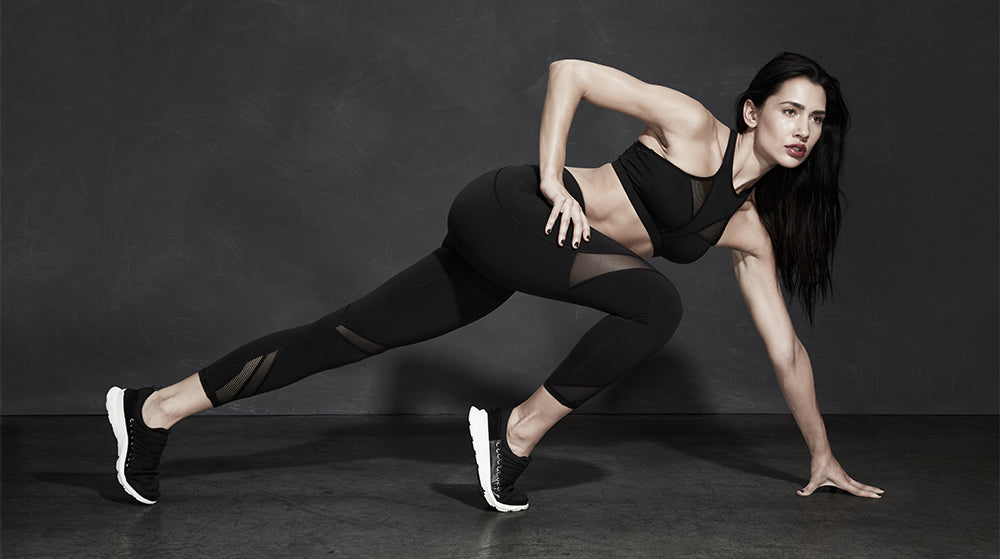 MICHI LEGGINGS: INVESTMENT PIECES MADE TO LAST
Going to the gym and constantly having to adjust your outfit has unfortunately come with the territory of working out. One's constantly hiking up their leggings, pulling down their tank tops, and pulling UP their sports bras. So if activewear brands are saying they're investing in our bodies, then what gives with the GIVE? It's time to invest in what moves you and have more knowledge in the activewear that you're investing in. Our innovative performance technology fabric is built to last, taking you over any hurdle and through any and all mountain climbers without stopping your circuit to do the ol' readjust.
FABRIC
We focus on performance. Our legging fabric is built to combat sweat and push you through any workout. MICHI uses a brushed back eight-way stretch nylon spandex acting as the main ingredient in why our leggings feel so great against your skin. Add that with the wicking and quick-dry capabilities of the material, and you have a soft fabric that can pull sweat away from your skin to the exterior of the garment. This means a sweaty workout is out of the question when you have a fabric that moves with you in all directions, drying before the class is even over.
Fabric durability is everything. There's nothing worse than purchasing a pair of leggings to only find months later that they've completely lost their stretch! The MICHI team wear-tests all our products so you can feel confident your clothing is opaque and meeting our fabric quality standards. Besides, burpees with see-through leggings? Not our type.
If you don't know about The Bluesign System then you're in luck because without them, we'd be just like every other activewear brand with a large carbon footprint. The Bluesign system strives towards making textile production more sustainable by connecting chemical suppliers, textile manufacturers and brands together. Bluesign environmental health and safety standards ensure that the production of raw materials and the manufacturing process are harmless to the environment by eliminating harmful substances and heavy metals. These fabrics are designed with top of the line sustainability practices, conscious production, and Bluesign certified materials, so rest assured you're helping to mitigate environmental degradation in the textile industry and you know #whomademyclothes.
Quality fabric is a must in maintaining the wash and wear of your leggings because let's face it, we don't want our neighbours seeing our undergarments while we're in downward dog. Our leggings come full circle. Our priority in quality has allowed us to develop leggings (and beyond) that go beyond the initial soft touch you feel when you put them on. MICHI's quality enables the longevity you experience in our clothing as long as you wash cold, and hang to dry. Remember your time is precious so keep your squats low and your standards high!
WAISTBAND
We value individuality. Pioneering a change in activewear our Founder and Head Designer, Michelle Watson introduced our signature 3 inch waistband, revolutionizing the way we move when we workout. We pay particular attention to having a waistband that molds to your body because we know everybody is unique. Designed to act like shapewear to taper the waistline, this waistband will leave you feeling tucked in and secure, so you don't have to hold anything back.
Let's not forget our 4 inch high rise waistband, lined with power mesh for a smooth shape and tapered waistline. Built to stay in place with a soft, thin elastic that sits at the top of the waistband. Because who isn't obsessed with pairing their favorite high rise leggings and a bold crop top?
Having a waistband that is supportive and secure while maintaining flexibility is a no brainer. Both our signature 3 inch and 4 inch waistbands are designed to smooth your silhouette, sit comfortably and stay in place from the gentlest flow to the hardest HIIT class without having it roll over.
DETAILS AND TRIM
We recognize the little things. As Hubert de Givenchy once said "luxury is in each detail." Every detail on our leggings is designed with fashion and function held at top of mind to enhance performance. Inspired by superheroines, 90's European Designers and nature, artfully placed mesh inserts and sophisticated cutouts are our signature. Our design team integrates minimalism with impactful details to polish your look.
Like our favorite superheroines we are go-getters. We design with versatility so you can seize the moment when opportunities arise. Our signature fine mesh inserts are high quality and sweat wicking to provide dimension and ventilation with a slimming and tactile effect. Our ladder trim is built to create shape, dimension elongating your legs while getting that much needed ventilation in your spin class. Whether you're hitting the gym, out for brunch or relaxing at home, you can feel confident as you rise to any occasion and let the details distinguish and complement your multifaceted life!
We all want to feel confident and comfortable in our leggings, it is after all like wearing a second skin. Investing in quality fabric, comfortable waistbands and luxurious accents will transform your style and keep your workout game strong. All our products are Made with Love in Canada. Let your leggings inspire you to perform with confidence and grace!